About Wheels of Justice
Wheels of Justice are Australians who happen to enjoy riding bicycles, who have had enough of negative attitudes and want to see positive changes for all road users.
Education: We want to see drivers educated to understand that people who ride bicycles have the right to be on the road, and that they have a duty of care towards us.
Enforcement: We want to see the existing traffic laws properly enforced to protect the safety of all road users, and full penalties applied.
Accountability: We want all road users to be held accountable for their own actions, and the systems to be in place to ensure that happens.
Where did the "Wheels of Justice" movement start? For that we have to track back to April/May 2005 and the huge national outcry over the court case and sentencing of Adelaide lawyer, Eugene McGee …
2nd December 2003: Criminal lawyer on hit-and-run charge
Wheels of Justice – the alliance of SA cyclists

9.30am Saturday May 7th. Victoria Square City. Following the verdict of a prominant SA Lawyer only receiving a $3100 fine and 12 month driving suspension for the death of a cyclist in 2003 a rally has been organised against this injustice.>

Support has been gathered from cycling clubs, associations, triathlon clubs and cycling orgainisations as well as politicians. (more in article)

First Edition Cycling News for May 4, 2005: What's a cyclist's life worth?

In South Australia, home of the Tour Down Under, the answer is AU$3100. That's the fine handed down last month to Eugene McGee, the driver of a 4WD who killed cyclist Ian Humphrey in a hit and run incident in November 2003. McGee, a lawyer and former police prosecutor admitted he had been drinking before the crash and instead of stopping to render assistance he waited four hours before reporting himself to police.

Despite police reports that McGee "smelled of alcohol" when he presented himself, he was not breath tested because regulations require a breath test to be taken within two hours of a crash. At the subsequent District Court trial McGee was found guilty of driving without due care and failing to stop and render assistance. He was acquitted of the more serious charge of causing death by dangerous driving.
The case has led to a huge public outcry in South Australia and South Australian Premier Mike Rann has announced a Royal Commission to investigate the case. Issues raised by cyclists' rights groups in the vanguard of the outcry include: Why was McGee's alcohol level not tested; why were two independent witness who say they saw McGee driving his 4WD at very high speed – estimated in excess of 160kph – at the time, not called at the trial; and why was McGee merely fined and disqualified from driving for 12 months, when the maximum sentence for failing to stop and render assistance is twelve months in jail? (more in article)
Rob's Speech 7th May 2005, Parliament House, Adelaide

My name is Rob Lewis, and I represent Wheels of Justice. Our group is made up of ordinary, working, tax paying individuals who happen to ride bicycles. We have no political preferences or allegiances. We have been galvanised into action as a result of injustice and the lack of value for a human life. We care and want to make a difference.I want to thank you all for coming along and showing just how many of us are outraged. I am pleased to be able to tell you that at this moment, there are rallies being held in Sydney, Melbourne and Brisbane in support of us. In addition, we have received messages of support from all states, and even overseas – as far afield as Colorado and Puerto Rico. It is a shame that this is what our state has become famous for – but hopefully your attendance here can help change that.
Last week, I heard a person described as a Mullett-Headed Lawyer defending his client, after the sentencing, by saying that it was "only" Due Care and Attention, and that this momentary lapse of concentration was a pure accident, which could have happened to anyone.
I have this to say to him: I suggest that you consult the Motor Accidents Commission, as they maintain that there is no such thing as an accident – there are crashes. Your client was involved in a crash. There was no accident at all. Rather, it was a callous disregard for his responsibilities as a licensed driver, and total lack of morality or value of human life. Be clear your values are NOT representative of a caring society. (more in article)
2010. Five years later.
Despite the public protests of May 2005 and the Kapunda Road Royal Commission, the family of Ian Humphrey and indeed, the cyclists of Australia, are still waiting for the wheels of justice to turn …
A not guilty verdict was finally handed to the McGee brothers on Wednesday, 17th March 2010 in this arduous, long running case If anything, the verdict throws up more unanswered questions than giving any sense of finality to the legal proceedings.
18 March 2010: Wheels of Justice Statement: Has justice really been seen to be done?

Find more videos like this on Melbourne Cyclist
As you can read, the Wheels of Justice movement started in South Australia. The movement grew out of the public outcry surrounding the Eugene McGee case and the attempt by him and others to escape the law and ultimately attempt to pervert the course of justice.
This public anger lead to simultaneous cyclist protests in Adelaide, Sydney, Melbourne and Brisbane on May 5th 2005. In South Australia it led to that states first Royal Commission in ten years. From the Royal Commission, recommendations were made to try the McGee brothers with conspiring to pervert the course of justice. On 17th March 2010, Judge Herriman handed down his decision.
In Victoria, NSW, Northern Territory and Queensland there have been similar incidents a prompting us to act in solidarity with South Australia. Melbourne cyclists have helped organise the first Australian Ride of Silence on May 17 2005. Strong web forum presence and blog activity maintain the Wheels of Justice awareness and focus. We can all assist in developing pro-active roles by a working with our communities, and also with various levels of government to send a very powerful message to the community regarding road safety, shared road awareness and behavioural adjustment to all road users.
These are all positive steps to reducing the road toll, raising community health standard by creating a larger cycling population and the flow on to saving for government, business and individuals. That is the real bottom line and members of parliament are only slowly realising that cycling has a far greater positive impact on community outcomes than just about any other programme they could mention, it is proactive, minimal cost, wide reaching and easily implemented… it just takes courage to stand up to commercial interest for the greater community.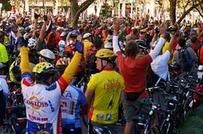 Our website has been developed with that focus in mind; to create access to information that can be easily utilised to educate yourself and create greater awareness about vitally important issues encountered by Australian cyclists.
Any positive changes for cyclists starts at the grassroots, with you, your family, your workplace, your local cycling club, your local Bicycle User Group, a community awareness program, media influence, pro-active involvement in riding events and driving school education programmes on share the road behaviour, to name just a few potential ways to keep the Wheels of Justice rolling for all road users.